Welcome to Plum Creek Little Cattle Company.
We are located in the rolling farmland of west central Wisconsin.  Ours is a family farm that has been continuously owned and operated since 1933.  Over that time, we have raised a variety of crops and animals continually seeking a balance between protecting and preserving a healthy environment and providing economic stability.  We have been here for generations and are caring for the land so it will care for us for generations more.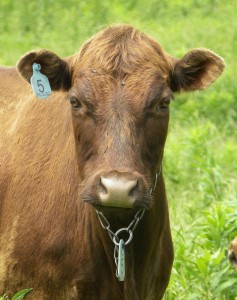 After doing extensive research on the Irish Dexter, we decided it was the breed for us.  In the spring of 2005 we journeyed to northern Minnesota and purchased our first Dexters: a cow, a young bull, and two little calves.  Since the back of our farm forms the headwaters to Plum Creek, and the Dexters were much smaller than the Holsteins we had been raising, the Plum Creek Little Cattle Company was born.
Plum Creek Little Cattle Company's focus is to produce quality breeding stock.  We want animals with a body type that maintains the Dexters' dual purpose of dairy and beef along with the gentle disposition for which they are so famous.  Our Dexters are DNA tested, parent verified, and registered.
All of our cattle are both chondrodysplasia and PHA free.  We are a member of both the American Dexter Cattle Association and the Purebred Dexter Cattle Association.  All animals can be registered with either organization.  We sell our animals registered, (or in the process), and cover the cost of the transfer of registration ownership to our buyers.